Unit for the Study of Personality in Politics
Science Center, St. John's University, Collegeville, MN 56321
Telephone: (320) 363-5481
---
This is the former website (1999-2008) of the Unit for the Study of Personality in Politics at Saint John's University and the College of Saint Benedict in Collegeville and St. Joseph, Minnesota.
Loss of institutional support for software employed in site creation and maintenance has resulted in loss of functionality and corruption of special characters. Consequently, this site has not been maintained since 2008.
Between 2008 and 2016, USPP research reports and analysis were published at Immelman.us.
In July 2016 a USPP successor site was launched at Personality-Politics.org.
USPP on Twitter » @PolPsyProfiling
---
Political Leaders and Candidates Studied
at the Unit for the Study of Personality in Politics
2008 Election Cycle
The Personality Profile of President Barack Obama: Leadership Implications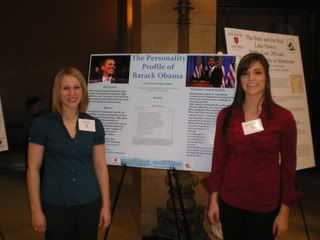 Sarah Moore and Angela Rodgers, College of St. Benedict, St. Joseph, presented their research findings at the 6th annual Minnesota Private College "Scholars at the Capitol" event, Feb. 19, 2009, in the State Capitol rotunda, St. Paul, Minn. Their research project

was titled "The Personality Profile of President Barack Obama: Leadership Implications."

Barack Obama: A Question of Toughness

John McCain: A Question of Temperament

Obama's Conciliatory Tendency Could Be Cause for Concern

McCain's Maverick Nature is Double-Edged Sword

Personality Profile of Barack Obama

'Monster'? The Darker Side of Hillary Clinton's Character

Comparing Clinton and Obama, Head-to-Head

"Clinton's Last Stand" — Does Hillary Have the Right Stuff to Triumph in Texas?

Could Mike Huckabee Be a 'Compassionate Crusader'?

Sure, Edwards is Congenial, But How About Electable?

Dutiful Romney Continues Struggle for Votes

Maverick McCain Finds His Mojo

Charisma, Confidence Boosts Barack Obama

Is Curtain About to Fall on Fred Thompson's Candidacy?

A Glimpse Into a Giuliani Presidency

Personal Electability Index for Presidential Contenders

Analysis of Hillary Clinton's Display of Emotion in New Hampshire

Personality Profile of 2007 French Presidential Candidate Nicolas Sarkozy

Personality Profile of 2007 French Presidential Candidate Ségolène Royal

Political Personality of Iran's President Mahmoud Ahmadinejad

Political Personality of North Korean Leader Kim Jong-Il

Political Personality of Zimbabwe's President Robert Mugabe

Misjudging Osama bin Laden

Debunked: Report that "President Bush has lowest IQ of all presidents of past 50 years"

Bush Administration's Vulnerability to Groupthink

Psychological Profile of Saddam Hussein

Personality profile of bin Laden strategist Ayman al-Zawahiri

Personality profile of al-Qaida leader Osama bin Laden

Personality profile of 9/11 ringleader Mohamed Atta

Masterminding political terror and mass murder

Psychological effects of 9/11 attacks on American social identity and public opinion

Personality may overpower pundits, polls in presidential election (Page One first place award, editorial column, newspapers under 50,000 circulation, Society of Professional Journalists, Minnesota)

Information about USPP project director Aubrey Immelman

Information about USPP research methods and materials

Personality patterns of political candidates

Studies of political candidates conducted at the USPP

News reports about studies conducted at the USPP

Political candidate profiles published by USPP contributors

Slobodan Milosevic

Criminal Psychology Index

Criminal profiles

Related sites

Recent publications

Foundation for the Study of Personality in History
2004 Election Cycle
2000 Election Cycle

Election 2000 Reporters' Tipsheet
| | |
| --- | --- |
| | |
| Media reports of USPP research and published political analysis by USPP contributors. | Jennie Scott, Aví Bahadoor, Aubrey Immelman (research director), and Jason Bartos. USPP contributors Scott, Bahadoor, and Bartos, along with Kelly Kalla and Dale Fredrickson (not pictured) presented their research on the political personalities of Al Gore, Hillary Clinton, Pat Buchanan, and George W. Bush at the 2000 Minnesota Undergraduate Psychology Conference at Macalester College in St. Paul. |
---
This page has been accessed

times since January 16, 2006
Official Disclaimer
This website is for educational purposes only, does not advocate the support or defeat of any candidate for any political office, and is not connected in any way to any political campaign.
Page maintained by Aubrey Immelman
http://www.csbsju.edu/uspp/
Last modified: March 12, 2009