USPP
Unit for the Study of Personality in Politics
---
Mitt Romney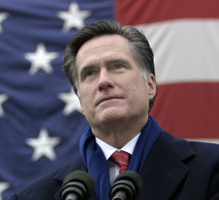 Mitt Romney for President Official Website

Romney campaign press release, Washington, D.C., Feb. 7, 2008:
Today, addressing the Conservative Political Action Conference (CPAC), Governor Romney announced that he was suspending his presidential campaign for the sake of Republican unity and the future of our country. In 2008, Republicans must stand united if we are to prevent Senators Clinton and Obama from taking the White House. As a nation at war and facing uncertain economic times, the American people cannot afford the Democrats and their agenda for retreat and economic slowdown. With today's speech, Governor Romney outlined the significance of this election and the need for the Republican Party to remain strong. More . . .

Reports and articles about Mitt Romney by USPP contributors

Romney is Conscientious and Assertive
by Mick Lundstrum. St. Cloud Times, Jan. 15, 2008, p. 5B.

Dutiful Romney Continues Struggle for Votes
(Original version of above St. Cloud Times article)

Provisional Personality Profile
Reports and articles about Mitt Romney citing USPP contributors

Yes, There's Crying in Politics
Nancy Benac, The Associated Press, Dec. 19, 2007
---
Page maintained by Aubrey Immelman
http://www.csbsju.edu/uspp/Romney/Front.html
Last modified: February 07, 2008